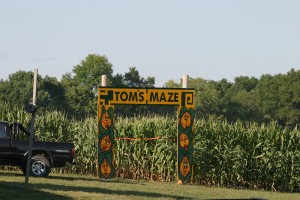 Things You Might Need to Know… or how to ensure even more fun at Tom's Maze!
Every Guest must go to the Ticket Booth and pay the $10 General Farm Admission when they arrive at Tom's Maze, (Children under age 5 are admitted free with paying adult)
Pumpkin Train Rides are an optional, add-on event for the family, costing $1, (children age 2 ride free with paying adult).
Tom's Pumpkin Train Ride, pulled by a John Deere Tractor, is a family fun ride lasting approximately 10-12 minutes.The cost is $1 per person ( children age 2 and under ride free) Adults are required to pay and ride with children age 10 and under. The Pumpkin Train will be running, (weather permitting) daylight hours only, Friday, 1- Dark, Saturday, 1- Dark and Sunday, 1-Dark. Train Ride Tokens may be purchased at the Ticket Booth or Concession Area.

ACCESSIBILITY Tom's Maze is a recreational, seasonal activity that takes place on a real family farm in a real field. We smooth the paths down as much as possible so strollers, wagons, or wheelchairs can be used, if it's not too muddy.
RESTROOMS There are portable restrooms at the entrance to the maze. There are also portable restrooms inside the maze. BUT you have to find them!
PETS Sorry, no pets are allowed in Tom's Maze regardless of size, shape, color or temperament. Service Dogs are always welcome!
WEATHER Tom's Maze is only open weather permitting so please call if you question the weather in our area, better yet, always call first or look at the weather conditions on the front page. Even if the weather is nice after a storm, ground conditions can force us to close. Unforeseen weather can force us to close at any time.
ATTIRE It is always better to overdress and leave a layer in the car. We recommend wearing closed-toe shoes or sneakers.
ALCOHOL Alcohol is not permitted.
FOOD Our concession stand is available. If you plan on joining in the fun of a campfire, you will need to supply your own food.
RESERVATIONS Reservations are required to schedule private campfires, schools or other groups for weekday hours.
PAYMENT We accept cash checks or credit cards with proper ID.