Activities for 2023
Tom's Pumpkin Train Ride this ride around the Farm is fun for all ages and only $1 per person ages 2 & up!
The Goat Boardwalk is a huge multi-level jungle gym for our goats to romp and play. Amelia, Blossom, Ruby and their friends love to climb, hop, and skip on the towering incline boards, high in the air. Sometimes at night, after everyone's gone to bed, Blossom sneaks up to the top and practices her dance moves.
The Little Red Hen House.. Now that's a BIG omelet!
Sunflower Garden Photo Op.. Almost as beautiful as your smiles!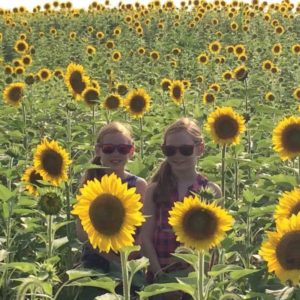 And of course all of your favorites from years past!
Tom's Punkin' Chunkin' Cannon — Tom's gone completely off the farm! This punkin' chunkin' cannon is an air powered cannon with a 25 ft. long barrel that shoots pumpkins over a quarter of a mile (which depending on the direction… is OFF THE FARM!) The cannon is mounted on a vintage 1968 Ford Firetruck. Be sure to bring your camera, it is really something to see!
No Left Turn Maze — This is a straw bale maze for all ages. Your challenge is to enter the straw bale maze and walk to the exit without ever turning left. If you make a left turn, you MUST start back over again. It is harder than it looks!
Human Foosball – Just as you might think … human foosball is basically the same game as regular foosball, only instead of having little plastic men whirling around on bars it is played with humans—making it a life-sized version of the game.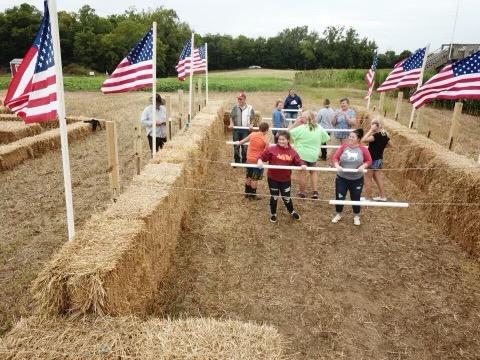 Photo Opportunities — Be sure to bring your camera. we have more photo opportunities with handmade scarecrows and cutout picture boards.
Bolga Baskets — Bolga baskets are hand-woven in the historical town of Bolgatonga, Ghana in West Africa. The weavers are mostly farmers who supplement their income by making and selling baskets. These beautiful baskets make great gifts.
Labyrinth — A relaxing 5-10 minute walk on one continuous path into the center of the labyrinth and back. Great for younger kids!
Specialty Pumpkins — at our Farm Market! More new varieties (white, green, striped, giant jack-o-lantern types and minis) ornamentals, gourds, crafts and more. Over fifty varieties of pumpkins and squash for you to choose.
Bring a flashlight — and explore Tom's Maze in the dark. We accept admissions 1-hour before closing time, so there's no need to worry that you'll get here late and have to leave early. Share the fun of moonlight maze madness!
Make plans early — for your groups fall outing to Tom's Maze be sure to schedule a rain date so you won't miss out on one of the most unique and fun outdoor activities in Southwestern Ohio!
Tom's Maze Private Campfire Package – By Reservation Only
Campfire Package includes — Your own extravaganza including:
your own private campfire area (we'll even have the fire roaring by the time you get there)
log seating
picnic table for your party